Freeway Logistics offers different standard and non-standard containers for sea and road cargo shipments.
In order for cargo loading into containers to proceed smoothly, our specialists will provide consultation and help for understanding the correct parameters for selecting the most suitable container. Contact us to receive an offer for your cargo container.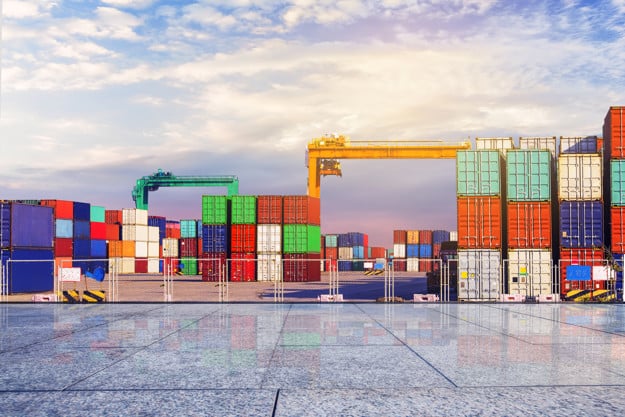 We offer:
Standard and non-standard containers;
Full container shipments FCL (full container load);
Consolidated or less than container load (LCL) shipments – consolidating the shipments of several customers;
Cooperation with the largest shipping companies;
Both sea and road shipments;
Trailers with a container lift self-loading system.
Using containers for cargo shipments reduces the risk of cargo damage or loss because the container is made from a resistant metal material that protects the cargo from the influence of external conditions.

Cargo container shipments may also be carried out as road cargo shipments, replacing the standard cargo trailer, thereby reducing costs and increasing efficiency. Container shipments by road are available for all types of cargo.

In order to protect yourself from risk, we recommend choosing additional insurance for sea container cargo shipments.
For shipments we offer the following standard containers:
20ft standard container
40ft standard container
45ft standard container
For shipments we offer the following non-standard containers:
45ft pallet-wide container
45ft pallet-wide reefer
45ft ventilated container
45ft curtain-side container
Standard containers:
Standard containers are used for almost all types of cargo shipments by sea and by road. Standard containers are available in different sizes. The most popular are:
20 foot standard containers
40 foot standard containers
45 foot standard containers
Non-standard containers:
45ft pallet wide container:
This is a 45 foot container, these containers are wider than the standard containers, they fit two Euro palettes side by side, meaning that they can contain a significantly larger cargo than a standard container.

45ft pallet-wide reefer:
Refrigerator containers are suited for cargo that requires specific temperature conditions, for example, for transporting food, cosmetics, paint and other products.
These containers are equipped with special sensors, humidity, temperature and atmosphere control measuring devices, the freezing device is connected to the transporting ship electricity system.

45 ft ventilated container:
For cargo that requires an air exchange with the surrounding environment we offer ventilated containers. The use of such containers is required for such cargo as: coffee, grain, etc.

45ft curtain-side container:
The 45 foot wide container with a curtain will provide full access to the sides of the container. It is intended for use on ships, trucks and on railways, and provides a competitive multimodal alternative to the trailer.


J – framework-type container frame for shipping specific cargo
R – refrigerator container with temperature control
U – cargo container
Z – trailer and chassis container
According to the ISO 6346 standard, groups have been classified and group codes have been assigned:
GP – Standard container
RE, RT, RS – Refrigerator-type container
HI, HR – Isolated container
VH – Container without mechanical ventilation system in the upper and bottom part cargo space
UT – Container with an open top
PF, PS, PC – Container platform
TN, TG, TD – Tank-container (for transporting liquid cargo)
BU – Bulk-container (for transporting bulk cargo)